Emirates cabin crew dies after falling from aircraft
The injured crew member was taken to the hospital but unfortunately succumbed to her injuries.
A crew member of Emirates due to depart Entebbe International Airport opened the emergency exit and fell off the plane, sustaining serous injuries.
The crew member was immediately taken to the hospital for life-threatening injuries but couldn't survive. 
The exact cause of the incident is not yet clear and investigations are on. 
Speaking to Khaleej Times, Emirates spokesperson said,
"We can confirm that a member of our cabin crew fell from an open door while preparing the aircraft for boarding on flight EK730 from Entebbe on 14 March 2018. The injured crew member was brought to the hospital, but unfortunately succumbed to her injuries. Our thoughts and prayers are with her family, and we're providing them with all possible support and care. We will extend our full co-operation to the authorities in their investigation." 

 
In a press statement, Civil Aviation Authority was quoted by Daily Nation saying that the crew " opened the emergency door and unfortunately fell off..." without explaining how.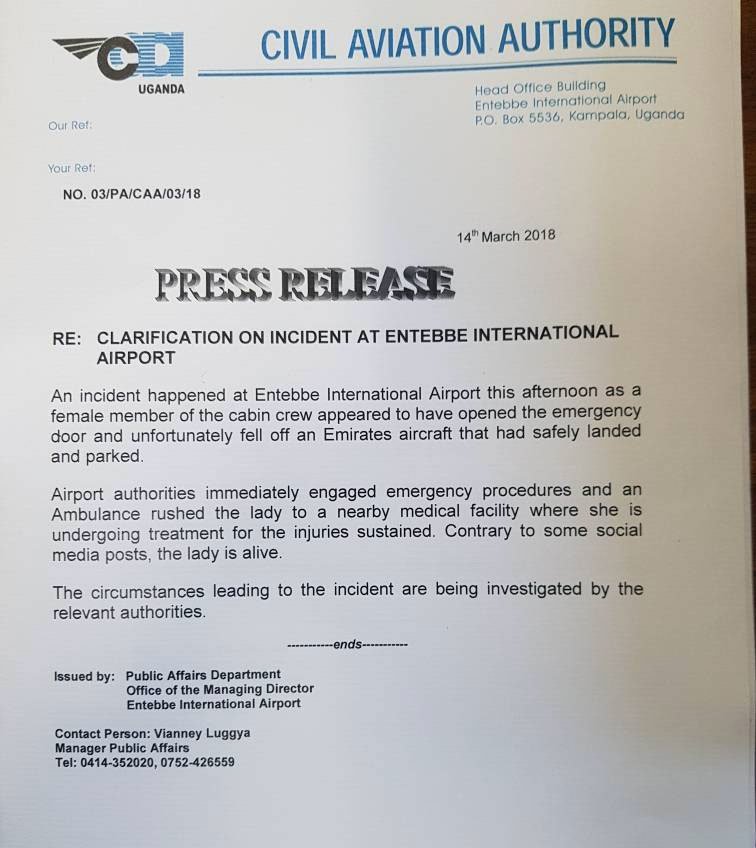 ---
ERROR: Macro /ads/dfp-ad-article-new is missing!