Portugal stuns host France to win cup despite Ronaldo injury
Twelve years after losing to Greece on home soil in their last final appearance, it was Portugal's turn to spoil the host nation's party.
Portugal overcame the loss of injured captain Cristiano Ronaldo to beat France 1-0 in the European Championship final on Sunday, with a goal in extra time from substitute Eder securing their country's first football title. 
Just as the final looked destined for a penalty shootout, Eder cut through the French defense and struck a low shot from 25 meters (yards) past goalkeeper Hugo Lloris in the 109th minute at the Stade de France. 
Eder, the glory moment.#POR

- Portista (@FCPortoGlobal)
Twelve years after losing to Greece on home soil in their last final appearance, it was Portugal's turn to spoil the host nation's party. And they achieved it by winning only one of their seven games at Euro 2016 inside 90 minutes.  
How #EURO2016 was won...#POR #PORFRAhttps://t.co/bPGRZrvSAM

- UEFA EURO 2016 (@UEFAEURO) July 10, 2016
It was dull and stodgy at times but the record books will only show that Portugal went from third-place in its group to champion, with little help from Ronaldo in its last match. 
European football's biggest match lost its biggest name midway through the first half of a cagey final on the outskirts of the French capital. 
Ronaldo went down under Dimitri Payet's ninth-minute challenge and was twice forced off to receive treatment on the touchline. 
However determined Ronaldo was to lead Portugal to glory, his left knee could cope no more and he was carried off on a stretcher midway through the first half. 
Ronaldo was in tears but he returned just before extra time to address his weary teammates. They seemed to be inspired by Ronaldo's re-emergence and the Real Madrid forward was soon leaping off the bench in celebrations. 
Portugal's name is on the Henri Delaunay trophy for the first time!#EURO2016 @selecaoportugal #POR pic.twitter.com/KRN9v5EpT8

- UEFA EURO 2016 (@UEFAEURO) July 10, 2016
Then he was lying on the turf again at the final whistle, this time in disbelief rather than pain.
Ugly duckling becomes beautiful
Coach Fernando Santos said the "ugly duckling has become beautiful" after Eder, jeered by Portugal fans during a game in March, fired in a long-range goal 11 minutes from the end of extra-time to give Portugal an unexpected 1-0 win.
Cristiano Ronaldo has dominated the Portuguese team for the last decade but, after the three-times world player of the year limped off injured, it was the 28-year-old Eder, born in Guinea-Bissau, who stole the headlines.
"I felt that Fernando Santos knows about my qualities ever since the day the squad was named," Eder told reporters. He put his confidence in me and today, I paid him back. I'm very happy."
His presence in the 23-man squad was in doubt until the very last minute and his goal on Sunday was only his fourth in 29 international appearances.
Eder is one of five members of the Portuguese squad who were born outside Europe along with Danilo (Guinea Bissau), Pepe (Brazil), Nani (Cape Verde) and William Carvalho (Angola).
Full name Ederzito Antonio Macedo Lopes, he has never played for any of the big three clubs in his homeland. Eder played 13 games for English Premier League Swansea City without scoring a goal last season before being loaned to French club Lille.
---
Euro triumph for all Portuguese and immigrants: Ronaldo
Star striker Cristiano Ronaldo devoted Portugal's Euro 2016 triumph over France to "all Portuguese and all immigrants".
Ronaldo said he found it impossible to come back after being injured in the Paris final which Portugal won 1-0.
"I tried to come back. My knee was swelling up and I couldn't. There was too much pain."

"It was not the final I wanted but I am very happy. It is a trophy for all Portuguese, for all immigrants, all the people who believed in us so I am very happy and very proud."
About 1.2 million Portuguese nationals and Portuguese-origin French live in France, according to Portuguese authorities.
2 minutes of Ronaldo on the touchline. Watch and enjoy.

- ? (@MartialTheMan)
---
Portugal won it for Ronaldo: Pepe
Portugal's man of the match Pepe said that his team had been inspired to beat France in Euro 2016 final after talisman Cristiano Ronaldo was forced off by injury.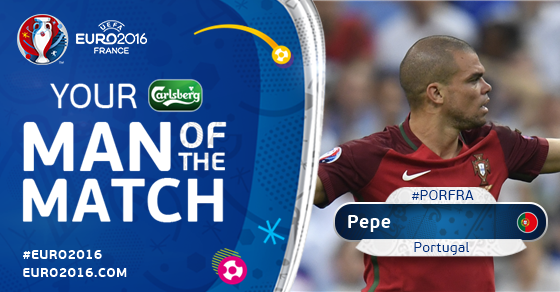 "It was tough to lose our main man, the man who could at any moment score a goal," said Pepe, who overcame a thigh injury to play at Stade de France.

"He could make the difference, but we were warriors on the pitch. We said we would win it for him and we managed to do that."
Portugal rode their luck at times, notably when France substitute Andre-Pierre Gignac hit the post in stoppage time, but hit the woodwork themselves in extra-time through Raphael Guerreiro's free-kick.
"There was a lot of suffering. It was a very intense game," added Pepe, who won the Champions League alongside Ronaldo with Madrid in May.

"We fought very hard. We had to work very hard and be more humble than the other team. We left it all out there. It's the only way to win.

"We represented Portugal, a beautiful country of immigrants, and we represent every one of them. This goes out to them."
---
ERROR: Macro /ads/dfp-ad-article-new is missing!