France beat Germany 2-0, to face Portugal in Euro final
Euro 2016 hosts face Portugal in Sunday's final
Antoine Griezmann's double fired France into the Euro 2016 final as an emotional smash and grab 2-0 win over a territorially dominant Germany on Thursday ended 58 years of tournament suffering at their hands.
Griezmann drove in a penalty at the end of the first half after a needless handball by Germany captain Bastian Schweinsteiger.
The striker then poked the ball home for the host nation in the 72nd minute following a blunder by goalkeeper Manuel Neuer to set up a meeting with Portugal in Paris on Sunday.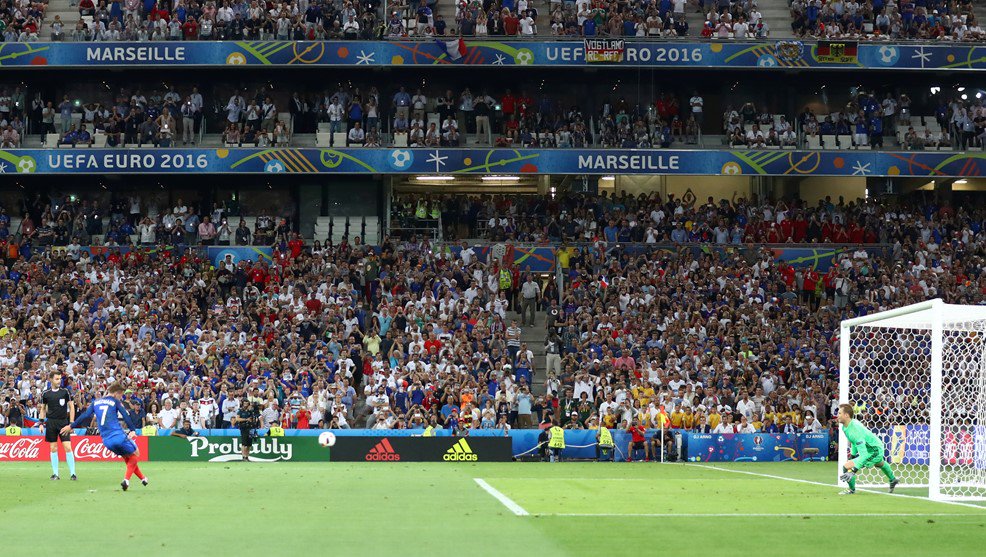 World champions Germany dominated in terms of possession but their lack of a deadly finisher cost them and the razor-sharp Griezmann, whose double took his tournament-leading goal tally to six, was the difference.
Antoine Griezmann's semi-final winning goal against Germany is even better with the titanic music... #FRA

- Titanic Goals (@TitanicGoal)
"We are extremely happy and it was beautiful to live it," said Griezmann.
"But there is still one match left. We have to keep our feet on the ground and from tomorrow let's prepare for this final."
It was the first time France defeated Germany in a competitive match since the 1958 World Cup, a drought that included defeats in the semi-finals of the 1982 and 1986 World Cups and the quarter-finals two years ago.
Their reward is a place in the final where they will be strong favourites to emulate the teams of 1984 and 1998 who won the European and world titles respectively on home soil.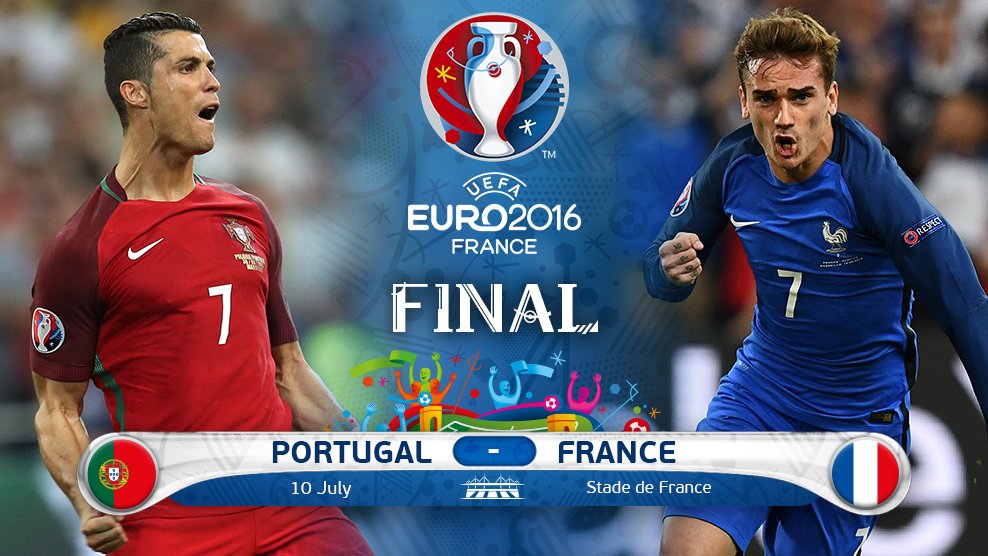 "I have played in many finals, most of them on the pitch. Now I'm on the bench," said France coach Didier Deschamps, captain of the victorious 1998 squad.
"We deserve it. We played the best team in the world and we knocked them out. Yes, we suffered, but we never gave up. I always trusted my players and this is their reward."
Germany will look at the statistics and wonder how they failed to score.
After defender Jerome Boateng's handball had given Italy a lifeline in the quarter-finals, their captain's similarly inexplicable high hand swung the game France's way when they most needed it. 
How France beat Germany to qualify for the #EURO2016 final...@AntoGriezmann ?? pic.twitter.com/uKzW0VUT5O

- UEFA EURO 2016 (@UEFAEURO) July 7, 2016
"There weren't too many things that went wrong, we were the better team," said Germany coach Joachim Loew.
"In 2012 or 2010 the sides were better than us but today that wasn't the case," he added in reference to semi-final defeats by Italy and Spain.
"We tried everything in the second half. We created a lot of pressure and had chances towards the end but that's football."
Took control
Apart from the opening exchanges when France tore forward on a wave of noise from their home crowd, Germany totally controlled the first half.
They swamped the midfield but had only half-chances for Emre Can, Thomas Mueller and Schweinsteiger to show for it.
Antoine Griezmann's penalty sounds better.... #GERFRA

- Titanic Goals (@TitanicGoals)
Schweinsteiger then gifted France the opener, changing the whole atmosphere when his raised hand touched the ball as he challenged Patrice Evra in the air from a corner.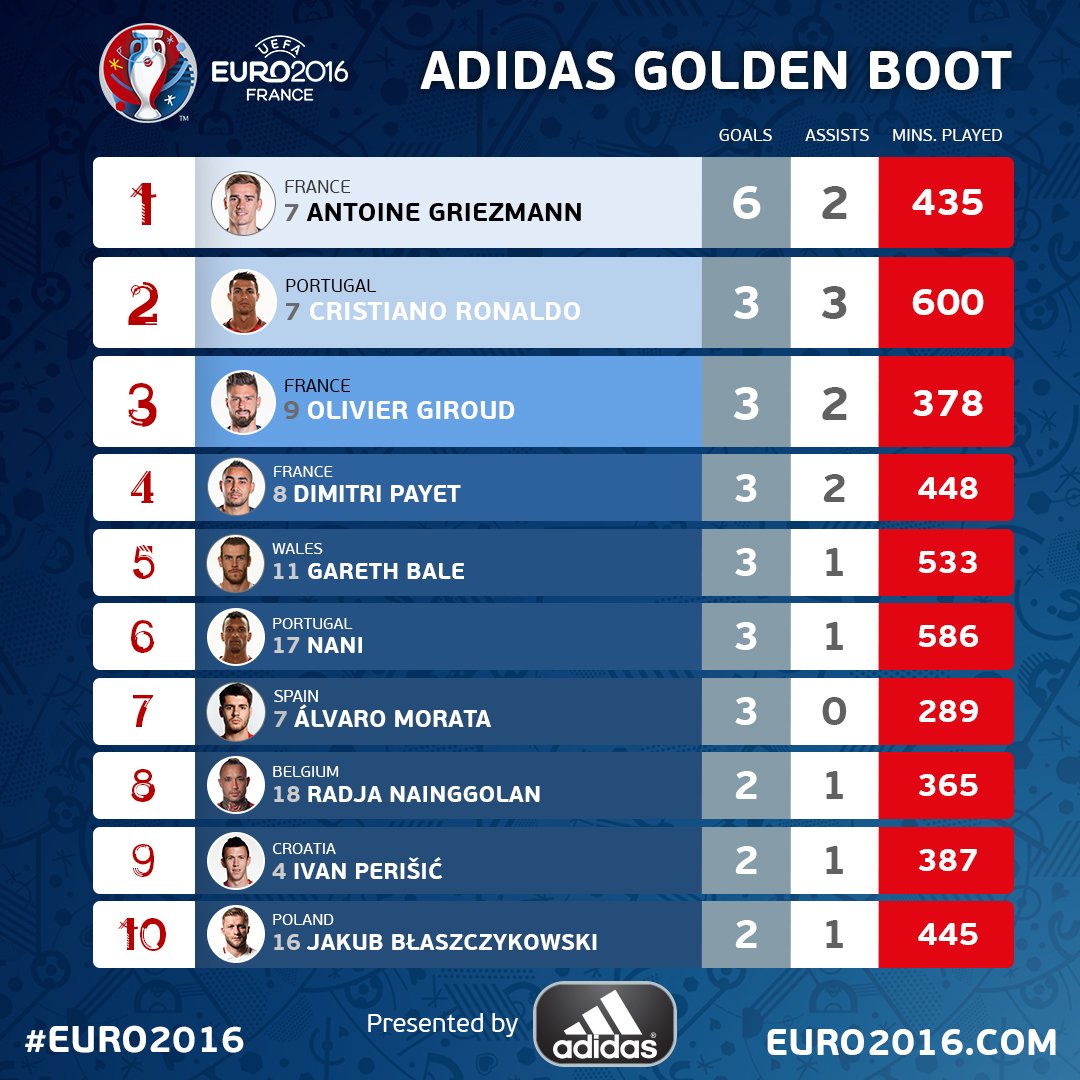 Few in the stadium saw it but replays validated Italian referee Nicola Rizzoli's decision and Griezmann, who missed a penalty in Atletico Madrid's Champions League defeat by Real Madrid six weeks ago, sent Neuer the wrong way with the last kick of the half.
It was a similar pattern after the break with almost all the action taking place in French territory. 
????????#EURO2016 pic.twitter.com/xNBqGAwkP7

- UEFA EURO 2016 (@UEFAEURO) July 7, 2016
France in dream land! Will they go all the way?#EURO2016 pic.twitter.com/LQFQXBMIYx

- UEFA EURO 2016 (@UEFAEURO) July 7, 2016
However, with Mueller looking out of sorts, there was no focal point to Germany's attacks and home keeper Hugo Lloris was barely tested.
Instead it was Germany keeper Neuer who was found wanting as he flapped a Paul Pogba cross straight to Griezmann who sent it back past him into the net.
Joshua Kimmich and Benedikt Hoewedes went close as Germany poured forward late on but there was no way back.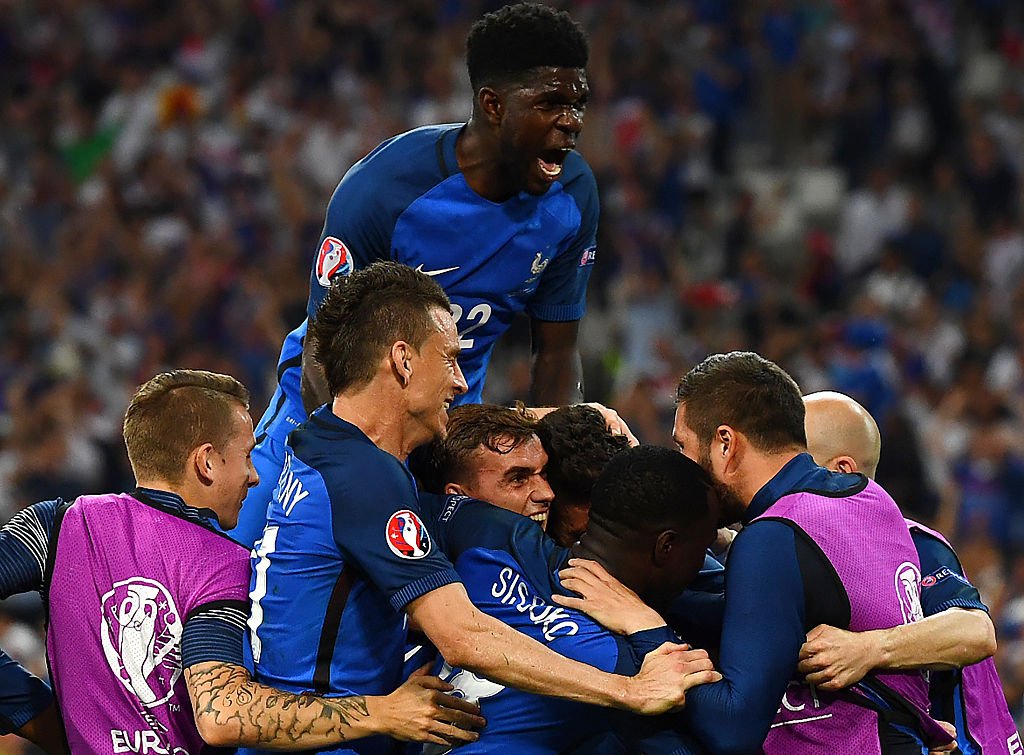 The result was the same as when the teams met in a Paris friendly in November but that night will be remembered for the death and destruction caused when Islamist militants struck at the stadium and other locations around the city.
Eight months on, Les Bleus will return to the Stade de France in very different circumstances, carried by a wave of national and international goodwill.
Plus qu'un match ! On peut le faire ???????? ???? pic.twitter.com/Ohhf0bJs6n

- Antoine Griezmann (@AntoGriezmann) July 7, 2016
"It was our duty to win matches to give the French joy and reach the end," said Griezmann. "I hope we will make it a beautiful end."
---
ERROR: Macro /ads/dfp-ad-article-new is missing!