Palestinian student is winner of Arab Reading Challenge
7 million participants from 25 countries participated in the challenge
Afaf Raed from Palestine was on Wednesday declared the winner of the second round of Arab Reading Challenge, after a tough battle with over 7.4 million students from 25 countries.
His Highness Shaikh Mohammed bin Rashid Al Maktoum, Vice-President and Prime Minister of the UAE and Ruler of Dubai, presented the winners with their awards during the closing ceremony award at Dubai Opera.
???? ????? ????? ???? ?? ???? ?? ????? ????? ??????? ???? ??? #????_???????_?????? 2017 ???? ???? ???? ?? ??????@HHShkMohd@ArabReading pic.twitter.com/4i9PoC7eUu

- Dubai Media Office (@DXBMediaOffice) October 18, 2017
Winning second place was Sherif Sayed from Egypt, while third place was given to Hafsa AlDhanhani from UAE.
Raed takes home a Dh550,000 ($150,000) cash prize, $100,000 of which will go to her university education and $50,000 to his family for their encouragement.
"You ask me why I read, but I would ask you why shouldn't I read? Reading adds life to our minds. It is a lifestyle. I want to become a scholar because only through the word, we are able to solve society's problems," she told the judging panel.
Al Iman School from Bahrain won $1 million for its reading initiatives where $100,000 will go to its principal, $100,000 to the outstanding supervisor who urged students to participate in the challenge, and the remaining $800,000 to the school.
????????? ?????? ???? ??? ??? #????_???????_?????? 2017@ArabReading pic.twitter.com/jkJsbbz3AD

- Dubai Media Office (@DXBMediaOffice) October 18, 2017
Like last year, the audience participated in choosing the ARC winner by casting their votes.  
The top 20 were also awarded and honoured with rewards in the challenge that gave away Dh11 million worth of prizes.
Raed also outperformed the 16 finalists who were further narrowed to five after the jury made the shortlist based on participants' comprehension of text and ability to communicate accurately in Arabic; critical and creative thinking; and general knowledge.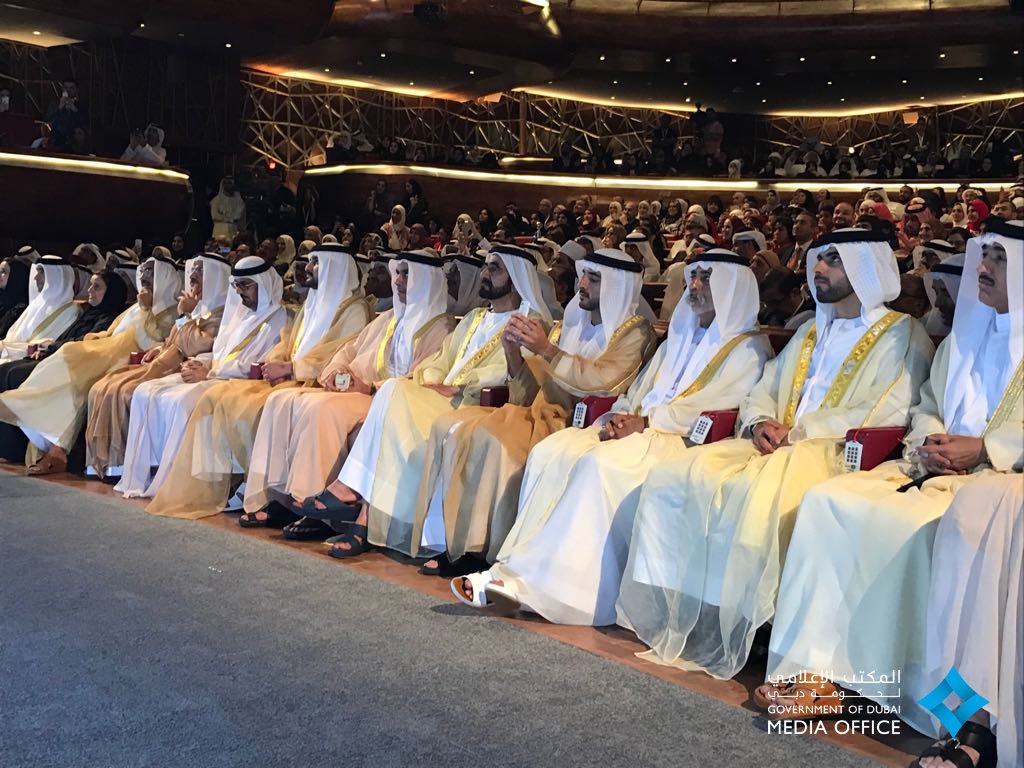 Launched in September 2015, ARC became the largest pan-Arab project that aims for a million students in the Arab region to read 50 million books a year.
Seven-year-old Mohammed Jallood from Algeria and Palestinian-based Talaie' Al-Amal School were the winners of the 2016 Arab Reading Challenge. 
While the challenge attracted 3.59 million students in 2016, it saw double the participation this year with over 7.4 million students, 75,000 supervisors from 41,000 schools in 25 countries.
Six schools made it to the finals where $3 million worth of prizes were awarded to finalists and winners.
Honouring Fatima Ghulam, martyr of words
During the ceremony, Sheikh Mohammed honoured the parents of Fatima Ghulam, 17, who passed away earlier in a car accident while making her way to the finalists of the Arab Reading Challenge in Algeria.
"Her dream was to have a library at home," her father said in a video broadcast during the event. "When she said she wanted to be a writer, people laughed at her but she said I don't care what people say and I'll follow my dream."
Her sister said she would stay up all night to read. "When people told her to go to sleep, she would say "leave me, let me read... let me dream".
Sheikh Mohammed had ordered a library to established after her name. 
The selection process
Five finalists were picked from among 16 by a panel of judges during the semi-finals qualifications on Monday and Tuesday.
The audience was involved in the final voting process for choosing the ARC champion and winning school
The audience weighed in with 10 per cent of the votes after the five finalists were asked a question by a panel of judges during the ceremony
And Raed was chosen first winner of the competition
Second round of ARC (2017) in numbers
* 7 million participants from 25 countries participated in the challenge
* Over 200 million books were collectively read.
* Over 40,000 schools and 75,000 supervisors participated in the challenge.
* The winner was selected from, 16 finalists on October 18.
* The winning school will be selected from six distinguished schools
* Dh11 million was the total prize money for all the different categories, with $1 million for best school and $150,000 for the challenge winner.
Sherouk@khaleejtimes.com
---
ERROR: Macro /ads/dfp-ad-article-new is missing!