Hot, hazy and humid weather in UAE until Friday
The sea will be rough over the Arabian Gulf.
Hot and hazy weather will continue across UAE on Monday with the minimum temperature recorded at 25.1 degrees celsius in Jais Mountain at 4:15am, according to the national met department (NCM).
July 23, 2018
The weather will be hot and hazy during daytime with an increase in the humidity during the night and early morning, according to the NCM.
The maximum temperature is expected to hover around 46°C in the internal areas. While Sunday's maximum temperature settled at 47.5 in Al Dhaid at 3:45pm.
In a statement, NCM said that the wave height is expected to be between 4 to 6 feet from 4pm today till 4pm tomorrow.
The weather department said some clouds will appear over eastern areas and may become convective at times by afternoon.
July 23, 2018
Light to moderate winds will blow in general, freshening at times, causing blowing dust / sand over some internal areas, and may cause poor visibility at times.
July 22, 2018
The relative humidity will increase by the night and early morning over some coastal areas, it added.
The sea will be moderate, becoming rough at times in the Arabian Gulf and slight to moderate in the Oman sea.
The statement said that the weather conditions are likely to be the same until Friday.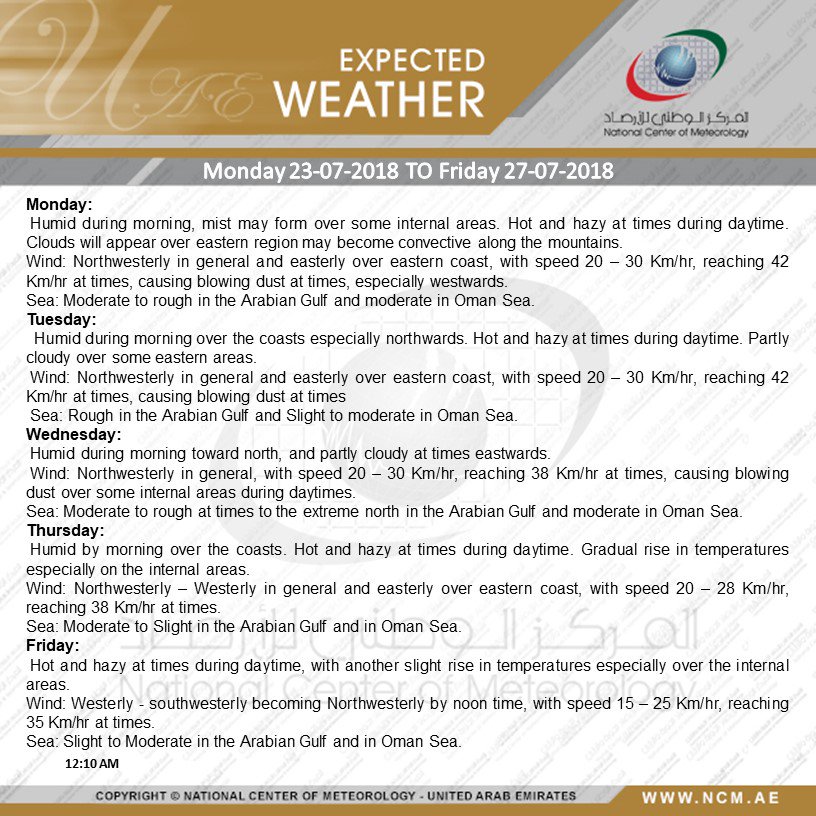 ---
ERROR: Macro /ads/dfp-ad-article-new is missing!