Slow traffic, accidents in Dubai as fog takes over UAE
Motorists have been advised to drive cautiously for their safety.
Heavy fog has resulted in the slow movement of traffic in different parts of  UAE on Tuesday morning.
The National Centre for Meteorology (NCM), said that visibility could be less than 1,000 metres at times over some coastal and inland areas of the country.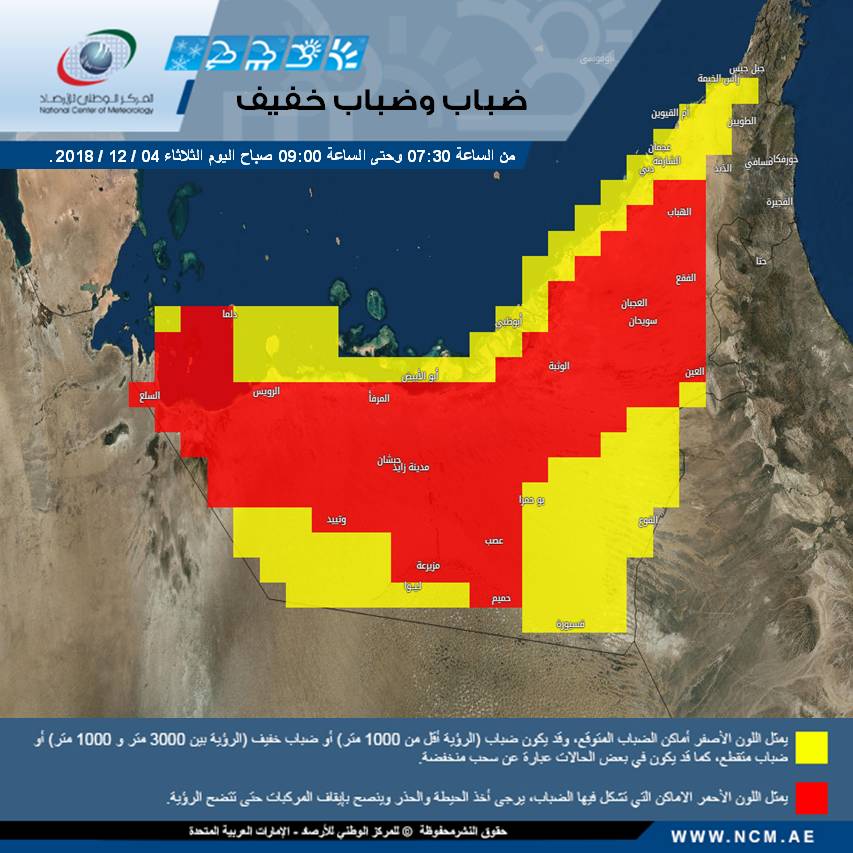 The Roads and Transport Authority (RTA) of Dubai has issued an alert to motorists to drive carefully during foggy weather, and cautioned against speeding and to keep a safe distance with the vehicles ahead.
For your safety and that of others while driving in the fog, use your vehicle signals when necessary to warn vehicles coming from behind. pic.twitter.com/c2KVzDg6bv

- RTA (@RTA_Dubai) December 4, 2018
"For your safety and that of others while driving in the fog, use your vehicle signals when necessary to warn vehicles coming from behind," the RTA said in a tweet.
Under the traffic laws, driving in foggy conditions without using low or foggy lights are punishable by Dh500 fine and four black points.
Dubai Police also tweeted a weather warning to motorists, urging to be extra cautious while driving during foggy weather. 
#TrafficUpdate | Slight fog, reduce speed and please be extra cautious while driving.

- Dubai Police???? ??? (@DubaiPoliceHQ) December 4, 2018
Meanwhile in the capital, the Abu Dhabi Police General Headquarters (GHQ) warned drivers on Twitter of "low visibility due to fog formation on highways. Motorists are urged to take extra caution."
The department also urged drivers to abide by the traffic rules, especially in foggy conditions to avoid traffic accidents.
#Abu_Dhabi_Police urges drivers to be cautious
due to low visibility during #fog formation
And for your saftey and for the safety of others on the road, please do not be distracted by taking any videos or using your phone. pic.twitter.com/BrOPgdW2pH

- ???? ?????? (@ADPoliceHQ) December 3, 2018
Motorists in Dubai faced huge tailbacks in this morning due to fog. An accident has been reported on E66 Dubai-Al Ain Road near Ras Al Khor towards Dubai - Oud Metha Road, according to Google Map reports.

Another accident was reported near Nad Al Sheba towards Dubai - Al Ain Road.
Slow-moving traffic was also observed on Sheikh Zayed Road's E11 - from Al Wahda street towards Dubai.
Tips for driving in bad weather
- Do not use hazard lights (they are meant for standing cars in case of an emergency)

- Do not use rear fog lights during normal visibility, since they can blind following drivers and rear fog lights can over-power your brake lights, hence following drivers might not see you braking

- Stay away from areas which are normally affected by bad weather like Wadis

- In case of rain, avoid low lying parts of the roads network like underpasses
*Source: Road Safety UAE
---
ERROR: Macro /ads/dfp-ad-article-new is missing!