KT for Good: How UAE makes smokers go from '25 sticks to zero'
Smoking is banned in cars in the presence of children under 12 years old.
'If you want to smoke, we will make it difficult for you' seems to be motto the UAE is pursuing when it comes to making the country smoke-free. And it is proving to be a game-changer in helping people quit or at least reduce smoking.
In 2016, the National Tobacco Control Committee of the UAE made a proposal to amend the Federal Tobacco Control Law and its bylaws to make public spaces 100 per cent smoke-free. And when the country imposed a ban on smoking in public places - including in all occupied buildings like offices, restaurants, cafes, and lifts - habitual smokers went into a tizzy.
Pakistani expat Sajjad Ahmed, 38, was one among them. A chain smoker until two years ago, he was used to taking several breaks at work to get his tobacco fix. When he is out with family during weekends, he would disappear into quiet corners to have a quick smoke.
But this media professional and a father of two says everything changed when his employer prohibited smoking within the office premises.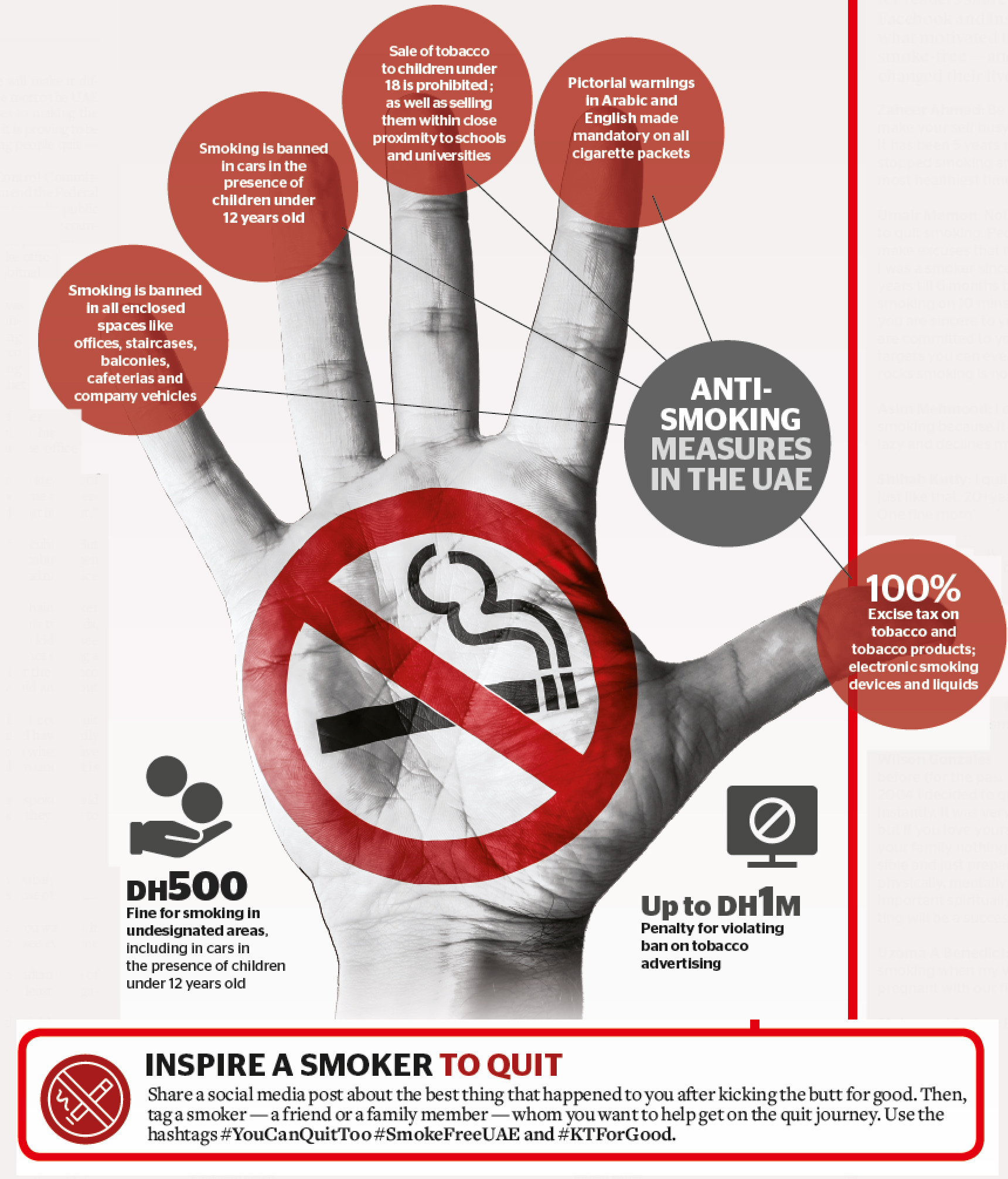 "It became mandatory for smokers to step out of the office to be able to smoke. That became cumbersome and time-consuming and I slowly lost interest," Ahmed told Khaleej Times.
"Initially, there used to be a smoking cubicle. But there was no fun in smoking inside a tiny cabin. When that was also dismantled in our office, I had no choice but to avoid smoking while at work."
Ahmed said his transition from a chain smoker to a non-smoker was also triggered by his two kids, aged seven and four. "I did not want my kids to see me smoking. I was very particular about not setting a bad example for them," said Ahmed. But the tobacco temptation was so strong that he would sneak out from home to take a few puffs.
"It was a long struggle. But, finally, I could quit smoking. In the last one and a half years, I have hardly smoked except on some rare occasions when I gave in to peer pressure. When it is difficult to smoke, it is easier to quit."
Scores of smokers that Khaleej Times spoke to said their inability to smoke - as and when they want to - has helped them curb smoking.
Cutting down from 25 sticks to zero
Santhosh Kumar, an Indian expat in Dubai, said he quit smoking two years ago mainly because of the ban on smoking in public places.
"When it is easy to smoke whenever you want to, it is difficult to stop especially when you see everyone around you smoking."
A sales professional from Kerala, Kumar said he used to smoke at least 25 cigarettes a day.
"Lighting a cigarette while I am on the field or while at my desk was like second nature to me. Even when I was not thinking of smoking, I would always have a colleague or a friend offering a puff and I would never say no."
Kumar said he had cut down his tobacco consumption at least by half after smoking was prohibited in public places. "From 25 cigarettes a day, I came down to 10 or eight a day. Slowly, I brought it further down to three or four and, eventually, I quit. I was the happiest man on earth when I quit," said Kumar.
Another ex-smoker, Rashid. P from India, said the rules and government policies encourage people to quit smoking.
"It can give motivation. But, if the habit is programmed into your mind, you will might fall back to it."
According to him, exercise - especially breathing techniques - helps in quitting smoking because toxins will flush out and inhale more oxygen. Then the urge will slowly die."
ANTI-SMOKING MEASURES IN THE UAE
>Smoking is banned in all enclosed spaces like offices, staircases, balconies, cafeterias and company vehicles
>Smoking is banned in cars in the presence of children under 12 years old
>Sale of tobacco to children under 18 is prohibited
>Sale of tobacco products within close proximity to schools and universities is prohibited
>Shisha cafes should not be located within 150 metres from residential areas
>All tobacco advertising is banned in the UAE
>Pictorial warnings in Arabic and English made mandatory on all cigarette packets
>100 per cent excise tax on tobacco and tobacco products; electronic smoking devices and liquids
Inspire a smoker to kick the habit
Share a social media post about the best thing that happened to you after kicking the butt for good. Then, tag a smoker - a friend or a family member - whom you want to help get on the quit journey. Use the hashtags #YouCanQuitToo #SmokeFreeUAE and #KTForGood.
---
ERROR: Macro /ads/dfp-ad-article-new is missing!
MORE FROM KT For Good
Health officials have urged people to adhere to precautionary... READ MORE

Covid-19 can be contracted from asymptomatic people who can spread it ... READ MORE

The government is doing its bit to stop the spread of Covid-19 and... READ MORE