Pakistan issues public holidays for 2020: Check out the complete list
The ministry has also issued a list of bank holidays.
Announcing the list holidays for 2020 in Pakistan, the country's Ministry of Interior notified there will be 10 public holidays and 23 optional holidays next year.
According to Samma.tv, these holidays include Kashmir Day (February 5), Pakistan Day (March 23), Labour Day (May 1), Eid Al Fitr (May 25, 26 and 27), Eid Al Adha (July 31, August 1 and 2), Independence Day (August 14), Ashura (9 and 10 Muharram), Eid Miladun Nabi, Quaid-e-Azim Day/Christmas (December 25) and the day after Christmas (December 26).
Besides this, the government issued bank holidays on January 1 (New Year day) and April 24 corresponding with first Ramadan and July 1. While for the first time, the Pakistan government announced a holiday on the birth anniversary of Baba Guru Nanak.
For Muslim festivals, the dates are subject to the moon sighting for which a separate notification will be issued by Ministry of Interior, the statement said.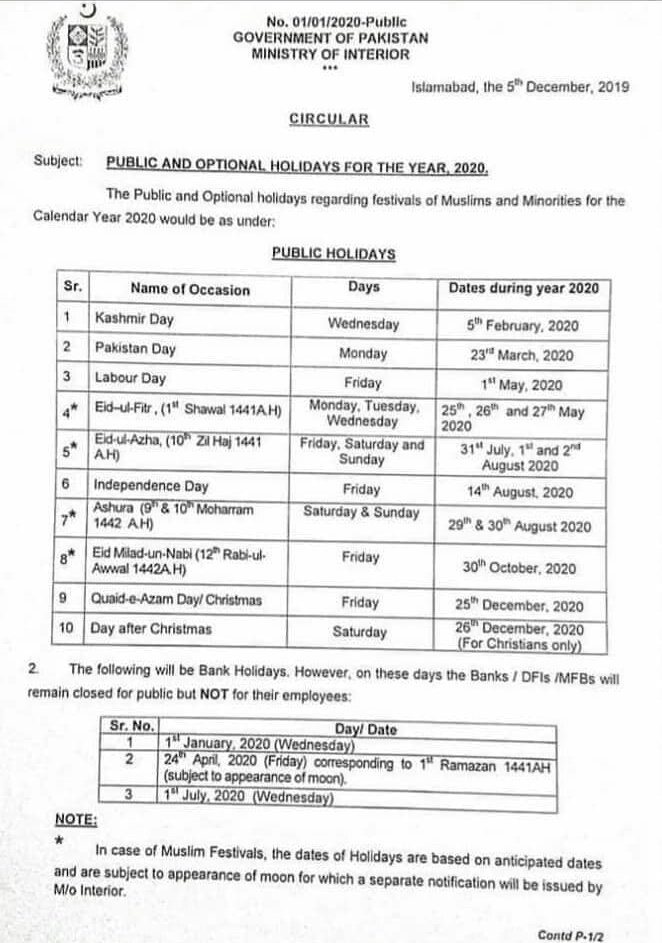 ---
ERROR: Macro /ads/dfp-ad-article-new is missing!