Muslims to women: Surprise winners in US election
Here's a look at the women politicians who broke barriers on US election.
The US Presidential elections might have produced the success story of Donald Trump, but a few women and minorities also made their mark in the Senate.
The victory of three female Democratic Senate candidates took the number of women of colour in Congress' upper chamber from one to four - the highest ever.
Here's a look at the women politicians who broke barriers on US election.
Tammy Duckworth
Duckworth, an Iraq war veteran who lost both legs when the helicopter she was co-piloting was shot down in 2004, unseated Republican Senator Mark Kirk in Illinois.
Duckworth was co-piloting a Black Hawk helicopter north of Baghdad on November 12, 2004, when a rocket-propelled grenade struck the cockpit of her aircraft and exploded.
Serving my fellow Veterans is my life's work. As senator, I will make sure our Vets get the best care & receive the benefits they earned.

- Tammy Duckworth (@TammyforIL) November 11, 2016
I spent yesterday thanking voters in Chicago, Peoria and Springfield for putting their faith in me. It will not be misplaced. pic.twitter.com/ud8BtAqwsT

- Tammy Duckworth (@TammyforIL) November 10, 2016
Ten days later, when she woke up at Walter Reed Memorial Hospital in Maryland, she learned that the explosion would cost her both legs and had shattered her right arm.
She was the first woman with a disability to have earned a spot in the US House of Representatives as well as the first member of Congress to have been born in Thailand.
The Illinois Senate race got ugly when Duckworth's opponent, Mark Kirk, made a distasteful (and downright mean) comment about her ancestry. "I forgot that your parents came all the way from Thailand to serve George Washington," Kirk said in the debate at the University of Illinois Springfield. Duckworth moved the the US as a teenager, although some of her ancestors served in the American Revolution.
Kamala Harris
Kamala Harris, the state of California's attorney general, has become the second woman of African-American origin to be elected to the US Senate. She is also the first Indian-American to claim this office.
51-year-old Harris, whose mother was from Chennai and father from Jamaica, won the US Senate Seat from California in a landslide election Nov 9, becoming the first black and Asian Senator from the state.
Catherine Cortez Masto
Democratic Senator-elect Catherine Cortez Masto won a narrow victory in Nevada to become the state's first woman and the nation's first Latina in the Senate, defeating Republican challenger Joe Heck to claim Senate minority leader Harry Reid's seat.
The three-term senator announced his retirement in March. Cortez Masto is the granddaughter of a Mexican immigrant and has previously served as the state's attorney general.
Her platform focused on immigration. She also supported her opponent's initial support of Trump's plans to build a wall along the southern border.
Ilhan Omar
Following victory in Minnesota, Omar will sit in the House of Representatives, making her the nation's first Somali-American legislator.
She was born in Somalia and spent four years in a refugee camp in Kenya, according to media reports, before coming to the US.
"Tonight, we are celebrating this win, our win. But our work won't stop," she said after her victory. "We will continue to build a more prosperous and equitable district, state and nation, where each and every one of us has opportunities to thrive and move forward together."
Pramila Jayapal
Pramila Jayapal is the first Indian American woman elected to the US House of Representatives.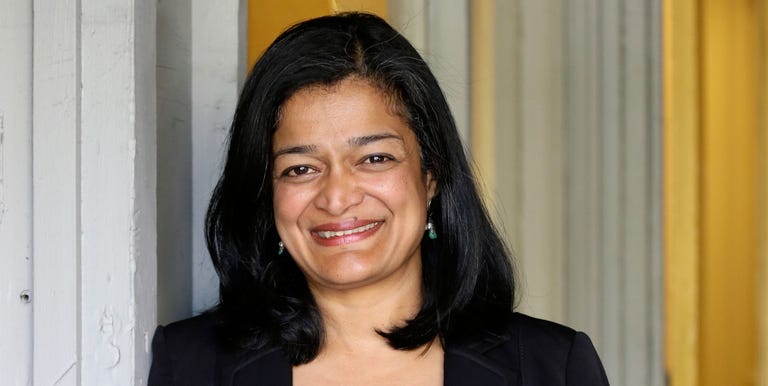 She will represent Washington's 7th Congressional District. The 51-year-old Democrat emigrated from India when she was 16 to attend Georgetown University.
She has spent much of her career fighting for immigrants' rights. In 2008 she founded what is now known as OneAmerica, the largest immigrant advocacy organization in Washington.
Jayapal was one of the first congressional candidates to receive an endorsement from Vermont Sen. Bernie Sanders.
---
ERROR: Macro /ads/dfp-ad-article-new is missing!